The Night I Saw Her
It was just a regular rainy evening and I was driving on the highway at a very crazy speed when suddenly, I thought I had seen something, it felt like a dream. Memories of nearly ten years poured back. I still remember her face, her skin, her fragrance—she was everything I had dreamt of and wanted in a girl.
(Reminising)
She had just moved to Kansas City and joined our law firm. She was a few years older and was more experienced in the field while I had just completed law school. Maryn...tall, slender with broad hips and a pointy nose, she was white and the dream girl of all male staff, both married and unmarried. She was twenty-five years of age, while I was just twenty-one and too shy to even look at her in the eye...
My mind could not have been playing tricks with me.
'Was she the one on the other lane just now?... Or... Did I just see her resemblance? Maryn in New York City? After ten long years!?' (John thought)
'I have never loved another girl, she is still in my dreams... I can't get her out of my head... I don't want her to leave me, her memories are still with me.' (John said)
(Reminising)
I have not been able to forget that evening, it was the law firm's anniversary and she had too much to drink. The party was over and she tripped while walking out of the hallway. I ran to her and caught her as she fell. She was too drunk and could not have driven herself. I helped her to the car brought out her keys from her bag and drove her home. Maryn lived alone in a cottage in Kansas. I took her in and laid her on the sofa, and turned to leave but then, she whispered my name, 'John, take me to my room'. (She said)
Rather, nervous than reluctant, I took her into her room. Again, I turned to leave but this time, she pulled me in, and the rest is a story.
It was the first time for me, and a one-night stand too but I could never forget that night. It was the most beautiful one for me. She woke up with a smile the next morning and saw me by her side in bed but she didn't seem shocked nor did she ask any questions. I was too embarrassed to explain,  so I simply left a note by her side stool and left.
I still remember clearly what I wrote in that note, 'I am sorry, Maryn' (it said)...
Amidst the flashbacks, I thought I would be too late if I did not turn the car. So, I halted on the breaks, reversed and took the shortest route to the other lane where I thought I saw her. 'She must not have gone far since I was on high speed' (I thought).
(Reminising)
Nothing remained the same after that one night. I could not look her in the face before but this time, it was even worse. I was too timid so, I avoided her, fearing that she would hate me. I didn't even have the nerve to tell her how much I loved her. The silence between us went on for a year and then I heard from a colleague that she accepted the marriage proposal of the managing director of the law firm. I was broken and inconsolable, so, I resigned and left for New York...
Driving on the lane, I saw the same car in which I thought she was earlier. The car was packed in front of a store. I parked my car beside hers and paused a while, lost in thoughts.
(Reminising)
I got married after three years in New York but June and I didn't last the year. I could never love another woman.
My colleague in the law firm in Kansas told me that Maryn's marriage crashed four years after I left. 
I prayed every day that I would meet Maryn again. I would give everything to be with her, and I wouldn't hold back from telling her how much I loved and still love her...
I got out of the car and went Into the store. There were many sections in the store, so I had to go to all. Then, in the children's section, I saw her from behind, the hips were still there and her fragrance, I could perceive from a short distance.
My heart skipped a beat, and everything seemed to stop at that moment, tears streamed from my eyes. 'Maryn!' (I said)
She stopped as if she was trying to recollect whose voice it was. She turned immediately and saw me, with tears streaming down her face, she whispered as she did on that night that brought us both together 'John'.
It felt like we went back in time, and as if we only began from the morning when she woke up beside me.
She ran into me for the most beautiful embrace. This time, I wept even louder, none of us were controllable. 'I love you' (she said). 'I have always loved you' (I said)
We both went to a small restaurant outside the store. She placed her head on my shoulder and I gave her a light pat on her and kissed her hair.
My only regret is that it took too long to tell her my feelings. I would have saved her from a nightmare of a marriage and she would have saved me of my ordeals with June, my ex-wife.
Society and our families could have stood against our union then, since, she was twenty-five and I was twenty-one years of age but now, she is thirty-five and I am thirty-one. 
No one can stop our love now because we are both free and mature.
Maryn had a little girl from her first marriage and I had none.
It was a dream come true for the two of us, now three. I married her that same year and we began our home together.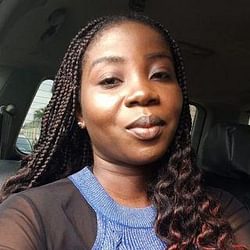 My mind wonders beautifully as it gazes upon nature and draws inspiration from events around me.