Adventures Of John Longbowe, Yeoman
Being A Modern-Antique Realistic Romance (Compiled from several eminent sources)
It seemeth but fair that I, John Longbowe, should set down this account of such hap and adventure as hath befallen me, without flourish, vaporing, or cozening of speech, but as becometh one who, not being a ready writer, goeth straight to the matter in hand in few words. So, though I offend some, I shall yet convince all, the which lieth closer to my purpose. Thus, it was in the year 1560, or 1650, or mayhap 1710--for my memory is not what it hath been and I ever cared little for monkish calendars or such dry-as-dust matter, being active as becometh one who hath to make his way in the world--yet I wot well it was after the Great Plague, which I have great cause to remember, lying at my cozen's in Wardour Street, London, in that lamentable year, eating of gilly flowers, sulphur, hartes tongue and many stynking herbes; touching neither man nor mayd, save with a great tongs steept in pitch; wearing a fine maske of silk with a mouth piece of aromatic stuff--by reason of which acts of hardihood and courage I was miraculously preserved. This much I shall say as to the time of these happenings, and no more. I am a plain, blunt man--mayhap rude of speech should occasion warrant---so let them who require the exactness of a scrivener or a pedagogue go elsewhere for their entertainment and be hanged to them!
Howbeit, though no scholar, I am not one of those who misuse the English speech, and, being foolishly led by the hasty custom of scriveners and printers to write the letters "T" and "H" joined together, which resembleth a "Y," do incontinently jump to the conclusion the THE is pronounced "Ye,"--the like of which I never heard in all England. And though this be little toward those great enterprises and happenings I shall presently shew, I set it down for the behoof of such malapert wights as must needs gird at a man of spirit and action--and yet, in sooth, know not their own letters.
So to my tale. There was a great frost when my Lord bade me follow him to the water gate near our lodgings in the Strand. When we reached it we were amazed to see that the Thames was frozen over and many citizens disporting themselves on the ice--the like of which no man had seen before. There were fires built thereon, and many ships and barges were stuck hard and fast, and my Lord thought it vastly pretty that the people were walking under their bows and cabbin windows and climbing of their sides like mermen, but I, being a plain, blunt man, had no joy in such idlenesse, deeming it better that in these times of pith and enterprise they should be more seemly employed. My Lord, because of one or two misadventures by reason of the slipperiness of the ice, was fain to go by London Bridge, which we did; my Lord as suited his humor ruffling the staid citizens as he passed or peering under the hoods of their wives and daughters--as became a young gallant of the time. I, being a plain, blunt man, assisted in no such folly, but contented myself, when they complayned to me, with damning their souls for greasy interfering varlets. For I shall now make no scruple in declaring that my Lord was the most noble Earl of Southampton, being withheld from so saying before through very plainness and bluntness, desiring as a simple yeoman to make no boast of serving a man of so high quality.
We fared on over Bankside to the Globe playhouse, where my Lord bade me dismount and deliver a secret message to the chief player-- which message was, "had he diligently perused and examined that he wot of, and what said he thereof?" Which I did. Thereupon he that was called the chief player did incontinently proceed to load mine arms and wallet with many and divers rolls of manuscripts in my Lord's own hand, and bade me say unto him that there was a great frost over London, but that if he were to perform those plays and masques publickly, there would be a greater frost there--to wit, in the Globe playhouse. This I did deliver with the Manuscripts to my Lord, who changed countenance mightily at the sight of them, but could make nought of the message. At which the lad who held the horses before the playhouse--one Will Shakespeare--split with laughter. Whereat my Lord cursed him for a deer-stealing, coney- catching Warwickshire lout, and cuffed him soundly. I wot there will be those who remember that this Will Shakespeare afterwards became a player and did write plays--which were acceptable even to the Queen's Majesty's self--and I set this down not from vanity to shew I have held converse with such, nor to give a seemingness and colour to my story, but to shew what ill-judged, misinformed knaves were they who did afterwards attribute friendship between my Lord and this Will Shakespeare, even to the saying that he made sonnets to my Lord. Howbeit, my Lord was exceeding wroth, and I, to beguile him, did propose that we should leave our horses and cargoes of manuscript behind and cross on the ice afoot, which conceit pleased him mightily. In sooth it chanced well with what followed, for hardly were we on the river when we saw a great crowd coming from Westminster, before a caravan of strange animals and savages in masks, capering and capricolling, dragging after them divers sledges quaintly fashioned like swannes, in which were ladies attired as fairies and goddesses and such like heathen and wanton trumpery, which I, as a plain, blunt man, would have fallen to cursing, had not my Lord himself damned me under his breath to hold my peace, for that he had recognized my Lord of Leicester's colours and that he made no doubt they were of the Court. As forsooth this did presently appear; also that one of the ladies was her Gracious Majesty's self--masked to the general eye, the better to enjoy these miscalled festivities. I say miscalled, for, though a loyal subject of her Majesty, and one who hath borne arms at Tilbury Fort in defence of her Majesty, it inflamed my choler, as a plain and blunt man, that her Mightiness should so degrade her dignity. Howbeit, as a man who hath his way to make in the world, I kept mine eyes well upon the anticks of the Great, while my Lord joined the group of maskers and their follies. I recognized her Majesty's presence by her discourse in three languages to as many Ambassadors that were present--though I marked well that she had not forgotten her own tongue, calling one of her ladies "a sluttish wench," nor her English spirit in cuffing my Lord of Essex's ears for some indecorum--which, as a plain man myself, curt in speech and action, did rejoice me greatly. But I must relate one feat, the like of which I never saw in England before or since. There was a dance of the maskers, and in the midst of it her Majesty asked the Ambassador from Spayne if he had seen the latest French dance. He replied that he had not. Whereupon Her Most Excellent Majesty skipt back a pace and forward a pace, and lifting her hoop, delivered a kick at his Excellency's hat which sent it flying the space of a good English ell above his head! Howbeit so great was the acclamation that her Majesty was graciously moved to repeat it to my Lord of Leicester, but, tripping back, her high heels caught in her farthingale, and she would have fallen on the ice, but for that my Lord, with exceeding swiftness and dexterity, whisked his cloak from his shoulder, spreading it under her, and so received her body in its folds on the ice, without himself touching her Majesty's person. Her Majesty was greatly pleased at this, and bade my Lord buy another cloak at her cost, though it swallowed an estate; but my Lord replyed, after the lying fashion of the time, that it was honour enough for him to be permitted to keep it after "it had received her Royal person." I know that this hap hath been partly related of another person--the shipman Raleigh--but I tell such as deny me that they lie in their teeth, for I, John Longbowe, have cause--miserable cause enough, I warrant--to remember it, and my Lord can bear me out! For, spite of his fair speeches, when he was quit of the Royal presence, he threw me his wet and bedraggled cloak and bade me change it with him for mine own, which was dry and warm. And it was this simple act which wrought the lamentable and cruel deed of which I was the victim, for, as I followed my Lord, thus apparelled, across the ice, I was suddenly set upon and seized, a choke-pear clapt into my mouth so that I could not cry aloud, mine eyes bandaged, mine elbows pinioned at my side in that fatall cloak like to a trussed fowl, and so I was carried to where the ice was broken, and thrust into a boat. Thence I was conveyed in the same rude sort to a ship, dragged up her smooth, wet side, and clapt under hatches. Here I lay helpless as in a swoon. When I came to, it was with a great trampling on the decks above and the washing of waves below, and I made that the ship was moving--but where I knew not. After a little space the hatch was lifted from where I lay, the choke-pear taken from my mouth; but not the bandage from mine eyes, so I could see nought around me. But I heard a strange voice say: "What coil is this? This is my Lord's cloak in sooth, but not my Lord that lieth in it! Who is this fellow?" At which I did naturally discover the great misprise of those varlets who had taken me for my dear Lord, whom I now damned in my heart for changing of the cloaks! Howbeit, when I had fetched my breath with difficulty, being well nigh spent by reason of the gag, I replyed that I was John Longbowe, my Lord's true yeoman, as good a man as any, as they should presently discover when they set me ashore. That I knew-- "Softly, friend," said the Voice, "thou knowest too much for the good of England and too little for thine own needs. Thou shalt be sent where thou mayest forget the one and improve thy knowledge of the other." Then as if turning to those about him, for I could not see by reason of the blindfold, he next said: "Take him on your voyage, and see that he escape not till ye are quit of England." And with that they clapt to the hatch again, and I heard him cast off from the ship's side. There was I, John Longbowe, an English yeoman,--I, who but that day had held converse with Will Shakespeare and been cognizant of the revels of Her Most Christian Majesty even to the spying of her garter!--I was kidnapped at the age of forty-five or thereabout-- for I will not be certain of the year--and forced to sea for that my Lord of Southampton had provoked the jealousie and envy of divers other great nobles.
CHAPTERS I TO XX
I AM FORCED TO SEA AND TO BECOME A PIRATE! I SUFFER LAMENTABLY FROM SICKNESS BY REASON OF THE BIGNESSE OF THE WAVES. I COMMIT MANY CRUELTIES AND BLOODSHED. BUT BY THE DIVINE INTERCESSION I EVENTUALLY THROW THE WICKED CAPTAIN OVERBOARD AND AM ELECTED IN HIS STEAD. I DISCOVER AN ISLAND OF TREASURE, OBTAIN POSSESSION THEREOF BY A TRICKE, AND PUT THE NATIVES TO THE SWORD.
I marvel much at those who deem it necessary in the setting down of their adventures to gloze over the whiles between with much matter of the country, the peoples, and even their own foolish reflections thereon, hoping in this way to cozen the reader with a belief in their own truthfulness, and encrease the extravagance of their deeds. I, being a plain, blunt man, shall simply say for myself that for many days after being taken from the bilboes and made free of the deck, I was grievously distempered by reason of the waves, and so collapsed in the bowels that I could neither eat, stand, nor lie. Being thus in great fear of death, from which I was miraculously preserved, I, out of sheer gratitude to my Maker, did incontinently make oath and sign articles to be one of the crew-- which were buccaneers. I did this the more readily as we were to attack the ships of Spayne only, and through there being no state of Warre at that time between England and that country, it was wisely conceived that this conduct would provoke it, and we should thus be forearmed, as became a juste man in his quarrel. For this we had the precious example of many great Captains. We did therefore heave to and burn many ships--the quality of those engagements I do not set forth, not having a seaman's use of ship speech, and despising, as a plain, blunt man, those who misuse it, having it not.
But this I do know, that, having some conceit of a shipman's ways and of pirates, I did conceive at this time a pretty song for my comradoes, whereof the words ran thus:--
Yo ho! when the Dog Watch bayeth loud
In the light of a mid-sea moon!
And the Dead Eyes glare in the stiffening Shroud,
For that is the Pirate's noon!
When the Night Mayres sit on the Dead Man's Chest
Where no manne's breath may come--
Then hey for a bottle of Rum! Rum! Rum!
And a passage to Kingdom come!
I take no credit to myself for the same, except so far as it may shew a touch of my Lord of Southampton's manner--we being intimate-- but this I know, that it was much acclaimed by the crew. Indeed they, observing that the Captain was of a cruel nature, would fain kill him and put me in his stead, but I, objecting to the shedding of precious blood in such behoof, did prevent such a lamentable and inhuman action by stealthily throwing him by night from his cabbin window into the sea--where, owing to the inconceivable distance of the ship from shore, he was presently drowned. Which untoward fate had a great effect upon my fortunes, since, burthening myself with his goods and effects, I found in his chest a printed proclamation from an aged and infirm clergyman in the West of England covenanting that, for the sum of two crowns, he would send to whoso offered, the chart of an island of great treasure in the Spanish Main, whereof he had had confession from the lips of a dying parishioner, and the amount gained thereby he would use for the restoration of his parish church. Now I, reading this, was struck by a great remorse and admiration for our late Captain, for that it would seem that he was, like myself, a staunch upholder of the Protestant Faith and the Church thereof, as did appear by his possession of the chart, for which he had no doubt paid the two good crowns. As an act of penance I resolved upon finding the same island by the aid of the chart, and to that purpose sailed East many days, and South, and North, and West as many other days--the manner whereof and the latitude and longitude of which I shall not burden the reader with, holding it, as a plain, blunt man, mere padding and impertinence to fill out my narrative, which helpeth not the general reader. So, I say, when we sighted the Island, which seemed to be swarming with savages, I ordered the masts to be stripped, save but for a single sail which hung sadly and distractedly, and otherwise put the ship into the likeness of a forlorn wreck, clapping the men, save one or two, under hatches. This I did to prevent the shedding of precious blood, knowing full well that the ignorant savages, believing the ship in sore distress, would swim off to her with provisions and fruit, bearing no arms. Which they did, while we, as fast as they clomb the sides, despatched them at leisure, without unseemly outcry or alarms. Having thus disposed of the most adventurous, we landed and took possession of the island, finding thereon many kegs of carbuncles and rubies and pieces of eight--the treasure store of those lawless pirates who infest the seas, having no colour of war or teaching of civilisation to atone for their horrid deeds.
I discovered also, by an omission in the chart, that this was not the Island wot of by the good and aged Devonshire divine--and so we eased our consciences of accounting for the treasure to him. We then sailed away, arriving after many years' absence at the Port of Bristol in Merrie England, where I took leave of the "Jolly Roger," that being the name of my ship; it was a strange conceit of seamen in after years ever to call the device of my FLAG--to wit, a skull and bones made in the sign of a Cross--by the NAME my ship bore, and if I have only corrected the misuse of history by lying knaves, I shall be content with this writing. But alas! such are the uncertainties of time; I found my good Lord of Southampton dead and most of his friends beheaded, and the blessed King James of Scotland--if I mistake not, for these also be the uncertainties of time--on the throne. In due time I married Mistress Marian Straitways. I might have told more of trifling, and how she fared, poor wench! in mine absence, even to the following of me in another ship, in a shipboy's disguise, and how I rescued her from a scheming Pagan villain; but, as a plain, blunt man, I am no hand at the weaving of puling love tales and such trifling diversions for lovesick mayds and their puny gallants--having only consideration for men and their deeds, which I have here set down bluntly and even at mine advanced years am ready to maintain with the hand that set it down.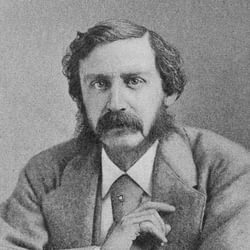 Famed for pioneering Western fiction with works like 'The Luck of Roaring Camp', captured the spirit of the California Gold Rush.