A Pedestrian Tour
Walking for walking's sake I do not like. The diversion appears to me one of the most factitious of modern enjoyments; and I cannot help looking upon those who pace their five miles in the teeth of a north wind, and profess to come home all the livelier and better for it, as guilty of a venial hypocrisy. It is in nature that after such an exercise the bones should ache and the flesh tremble; and I suspect that these harmless pretenders are all the while paying a secret penalty for their bravado. With a pleasant end in view, or with cheerful companionship, walking is far from being the worst thing in life; though doubtless a truly candid person must confess that he would rather ride under the same circumstances. Yet it is certain that some sort of recreation is necessary after a day spent within doors; and one is really obliged nowadays to take a little walk instead of medicine; for one's doctor is sure to have a mania on the subject, and there is no more getting pills or powders out of him for a slight indigestion than if they had all been shot away at the rebels during the war. For this reason I sometimes go upon a pedestrian tour, which is of no great extent in itself, and which I moreover modify by keeping always within sound of the horse-car bells, or easy reach of some steam-car station.
I fear that I should find these rambles dull, but that their utter lack of interest amuses me. I will be honest with the reader, though, and any Master Pliable is free to forsake me at this point; for I cannot promise to be really livelier than my walk. There is a Slough of Despond in full view, and not a Delectable Mountain to be seen, unless you choose so to call the high lands about Waltham, which we shall behold dark blue against the western sky presently. As I sally forth upon Benicia Street, the whole suburb of Charlesbridge stretches about me,--a vast space upon which I can embroider any fancy I like as I saunter along. I have no associations with it, or memories of it, and, at some seasons, I might wander for days in the most frequented parts of it, and meet hardly any one I know. It is not, however, to these parts that I commonly turn, but northward, up a street upon which a flight of French-roof houses suddenly settled a year or two since, with families in them, and many outward signs of permanence, though their precipitate arrival might cast some doubt upon this. I have to admire their uniform neatness and prettiness, and I look at their dormer-windows with the envy of one to whose weak sentimentality dormer-windows long appeared the supreme architectural happiness. But, for all my admiration of the houses, I find a variety that is pleasanter in the landscape, when I reach, beyond them, a little bridge which appears to span a small stream. It unites banks lined with a growth of trees and briers nodding their heads above the neighboring levels, and suggesting a quiet water-course, though in fact it is the Fitchburg Railroad that purls between them, with rippling freight and passenger trains and ever-gurgling locomotives. The banks take the earliest green of spring upon their southward slope, and on a Sunday morning of May, when the bells are lamenting the Sabbaths of the past, I find their sunny tranquillity sufficient to give me a slight heart-ache for I know not what. If I descend them and follow the railroad westward half a mile, I come to vast brick-yards, which are not in themselves exciting to the imagination, and which yet, from an irresistible association of ideas, remind me of Egypt, and are forever newly forsaken of those who made bricks without straw; so that I have no trouble in erecting temples and dynastic tombs out of the kilns; while the mills for grinding the clay serve me very well for those sad-voiced _sakias_ or wheel-pumps which the Howadji Curtis heard wailing at their work of drawing water from the Nile. A little farther on I come to the boarding-house built at the railroad side for the French Canadians who have by this time succeeded the Hebrews in the toil of the brick-yards, and who, as they loiter in windy-voiced, good-humored groups about the doors of their lodgings, insist upon bringing before me the town of St. Michel at the mouth of the great Mont Cenis tunnel, where so many peasant folk like them are always amiably quarreling before the _cabarets_ when the diligence comes and goes. Somewhere, there must be a gendarme with a cocked hat and a sword on, standing with folded arms to represent the Empire and Peace among that rural population; if I looked in-doors, I am sure I should see the neatest of landladies and landladies' daughters and nieces in high black silk caps, bearing hither and thither smoking bowls of _bouillon_ and _cafe-au-lait_. Well, it takes as little to make one happy as miserable, thank Heaven! and I derive a cheerfulness from this scene which quite atones to me for the fleeting desolation suffered from the sunny verdure on the railroad bank. With repaired spirits I take my way up through the brick-yards towards the Irish settlement on the north, passing under the long sheds that shelter the kilns. The ashes lie cold about the mouths of most, and the bricks are burnt to the proper complexion; in others these are freshly arranged over flues in which the fire has not been kindled; but in whatever state I see them, I am reminded of brick-kilns of boyhood. They were then such palaces of enchantment as any architect should now vainly attempt to rival with bricks upon the most desirable corner lot of the Back Bay, and were the homes of men truly to be envied: men privileged to stay up all night; to sleep, as it were, out of doors; to hear the wild geese as they flew over in the darkness; to be waking in time to shoot the early ducks that visited the neighboring ponds; to roast corn upon the ends of sticks; to tell and to listen to stories that never ended, save in some sudden impulse to rise and dance a happy hoe-down in the ruddy light of the kiln-fires. If by day they were seen to have the redness of eyes of men that looked upon the whiskey when it was yellow and gave its color in the flask; if now and then the fragments of a broken bottle strewed the scene of their vigils, and a head broken to match appeared among those good comrades, the boyish imagination was not shocked by these things, but accepted them merely as the symbols of a free virile life. Some such life no doubt is still to be found in the Dublin to which I am come by the time my repertory of associations with brick-kilns is exhausted, but, oddly enough, I no longer care to encounter it.
It is perhaps in a pious recognition of our mortality that Dublin is built around the Irish grave-yard. Most of its windows look out upon the sepulchral monuments and the pretty constant arrival of the funeral trains with their long lines of carriages bringing to the celebration of the sad ultimate rites those gay companies of Irish mourners. I suppose that the spectacle of such obsequies is not at all depressing to the inhabitants of Dublin; but that, on the contrary, it must beget in them a feeling which, if not resignation to death, is, at least, a sort of sub-acute cheerfulness in his presence. None but a Dubliner, however, would have been greatly animated by a scene which I witnessed during a stroll through this cemetery one afternoon of early spring. The fact that a marble slab or shaft more or less sculptured, and inscribed with words more or less helpless, is the utmost that we can give to one whom once we could caress with every tenderness of speech and touch, and that, after all, the memorial we raise is rather to our own grief, and is a decency, a mere conventionality,--this is a dreadful fact on which the heart breaks itself with such a pang, that it always seems a desolation never recognized, an anguish never felt before. Whilst I stood revolving this thought in my mind, and reading the Irish names upon the stones and the black head-boards,--the latter adorned with pictures of angels, once gilt, but now weather-worn down to the yellow paint,--a wail of intolerable pathos filled the air: "O my darling, O my darling! O--O--O!" with sobs and groans and sighs; and, looking about, I saw two women, one standing upright beside another that had cast herself upon a grave, and lay clasping it with her comfortless arms, uttering these cries. The grave was a year old at least, but the grief seemed of yesterday or of that morning. At times the friend that stood beside the prostrate woman stooped and spoke a soothing word to her, while she wailed out her woe; and in the midst some little ribald Irish boys came scuffling and quarreling up the pathway, singing snatches of an obscene song; and when both the wailing and the singing had died away, an old woman, decently clad, and with her many-wrinkled face softened by the old-fashioned frill running round the inside of her cap, dropped down upon her knees beside a very old grave, and clasped her hands in a silent prayer above it.
[Illustration: "Looking about, I saw two women."]
If I had beheld all this in some village _campo santo_ in Italy, I should have been much more vividly impressed by it, as an aesthetical observer; whereas I was now merely touched as a human being, and had little desire to turn the scene to literary account. I could not help feeling that it wanted the atmosphere of sentimental association, the whole background was a blank or worse than a blank. Yet I have not been able to hide from myself so much as I would like certain points of resemblance between our Irish and the poorer classes of Italians. The likeness is one of the first things that strikes an American in Italy, and I am always reminded of it in Dublin. So much of the local life appears upon the street; there is so much gossip from house to house, and the talk is always such a resonant clamoring; the women, bareheaded, or with a shawl folded over the head and caught beneath the chin with the hand, have such a contented down-at-heel aspect, shuffling from door to door, or lounging, arms akimbo, among the cats and poultry at their own thresholds, that one beholding it all might well fancy himself upon some Italian _calle_ or _vicolo_. Of course the illusion does not hold good on a Sunday, when the Dubliners are coming home from church in their best,--their extraordinary best bonnets and their prodigious silk hats. It does not hold good in any way or at any time, except upon the surface, for there is beneath all this resemblance the difference that must exist between a race immemorially civilized and one which has lately emerged from barbarism "after six centuries of oppression." You are likely to find a polite pagan under the mask of the modern Italian you feel pretty sure that any of his race would with a little washing and skillful manipulation, _restore_, like a neglected painting, into something genuinely graceful and pleasing; but if one of these Yankeefied Celts were scraped, it is but too possible that you might find a kern, a Whiteboy, or a Pikeman. The chance of discovering a scholar or a saint of the period when Ireland was the centre of learning, and the favorite seat of the Church, is scarcely one in three.
Among the houses fronting on the main street of Dublin, every other one--I speak in all moderation--is a grocery, if I may judge by a tin case of corn-balls, a jar of candy, and a card of shirt-buttons, with an under layer of primers and ballads, in the windows. You descend from the street by several steps into these haunts, which are contrived to secure the greatest possible dampness and darkness; and if you have made an errand inside, you doubtless find a lady before the counter in the act of putting down a guilty-looking tumbler with one hand, while she neatly wipes her mouth on the back of the other. She has that effect, observable in all tippling women of low degree, of having no upper garment on but a shawl, which hangs about her in statuesque folds and lines. She slinks out directly, but the lady behind the counter gives you good evening with
"The affectation of a bright-eyed ease,"
intended to deceive if you chance to be a State constable in disguise, and to propitiate if you are a veritable customer: "Who was that woman, lamenting so, over in the grave-yard?" "O, I don't know, sir," answered the lady, making change for the price of a ballad. "Some Irish folks. They ginerally cries that way."
In yet earlier spring walks through Dublin, I found a depth of mud appalling even to one who had lived three years in Charlesbridge. The streets were passable only to pedestrians skilled in shifting themselves along the sides of fences and alert to take advantage of every projecting doorstep. There were no dry places, except in front of the groceries, where the ground was beaten hard by the broad feet of loafing geese and the coming and going of admirably small children making purchases there. The number of the little ones was quite as remarkable as their size, and ought to have been even more interesting, if, as sometimes appears probable, such increase shall--together with the well-known ambition of Dubliners to rule the land--one day make an end of us poor Yankees as a dominant plurality.
The town was somewhat tainted with our architectural respectability, unless the newness of some of the buildings gave illusion of this; and, though the streets of Dublin were not at all cared for, and though every house on the main thoroughfare stood upon the brink of a slough, without yard, or any attempt at garden or shrubbery, there were many cottages in the less aristocratic quarters inclosed in palings, and embowered in the usual suburban pear-trees and currant-bushes. These, indeed, were dwellings of an elder sort, and had clearly been inherited from a population now as extinct in that region as the Pequots, and they were not always carefully cherished. On the border of the hamlet is to be seen an old farm-house of the poorer sort, built about the beginning of this century, and now thickly peopled by Dubliners. Its gate is thrown down, and the great wild-grown lilac hedge, no longer protected by a fence, shows skirts bedabbled by the familiarity of lawless poultry, as little like the steady-habited poultry of other times, as the people of the house are like the former inmates, long since dead or gone West. I offer the poor place a sentiment of regret as I pass, thinking of its better days. I think of its decorous, hard-working, cleanly, school-going, church-attending life, which was full of the pleasure of duty done, and was not without its own quaint beauty and grace. What long Sabbaths were kept in that old house, what scanty holidays! Yet from this and such as this came the dominion of the whole wild continent, the freedom of a race, the greatness of the greatest people. It may be that I regretted a little too exultantly, and that out of this particular house came only peddling of innumerable clocks and multitudinous tin-ware. But as yet, it is pretty certain that the general character of the population has not gained by the change. What is in the future, let the prophets say; any one can see that something not quite agreeable is in the present; something that takes the wrong side, as by instinct, in politics; something that mainly helps to prop up tottering priestcraft among us; something that one thinks of with dismay as destined to control so largely the civil and religious interests of the country. This, however, is only the aggregate aspect. Mrs. Clannahan's kitchen, as it may be seen by the desperate philosopher when he goes to engage her for the spring house-cleaning, is a strong argument against his fears. If Mrs. Clannahan, lately of an Irish cabin, can show a kitchen so capably appointed and so neatly kept as that, the country may yet be an inch or two from the brink of ruin, and the race which we trust as little as we love may turn out no more spendthrift than most heirs. It is encouraging, moreover, when any people can flatter themselves upon a superior prosperity and virtue, and we may take heart from the fact that the French Canadians, many of whom have lodgings in Dublin, are not well seen by the higher classes of the citizens there. Mrs. Clannahan, whose house stands over against the main gate of the grave-yard, and who may, therefore, be considered as moving in the best Dublin society, hints, that though good Catholics, the French are not thought perfectly honest,--"things have been missed" since they came to blight with their crimes and vices the once happy seat of integrity. It is amusing to find Dublin fearful of the encroachment of the French, as we, in our turn, dread the advance of the Irish. We must make a jest of our own alarms, and even smile--since we cannot help ourselves--at the spiritual desolation occasioned by the settlement of an Irish family in one of our suburban neighborhoods. The householders view with fear and jealousy the erection of any dwelling of less than a stated cost, as portending a possible advent of Irish; and when the calamitous race actually appears, a mortal pang strikes to the bottom of every pocket. Values tremble throughout that neighborhood, to which the new-comers communicate a species of moral dry-rot. None but the Irish will build near the Irish; and the infection of fear spreads to the elder Yankee homes about, and the owners prepare to abandon them,--not always, however, let us hope, without turning, at the expense of the invaders, a Parthian penny in their flight. In my walk from Dublin to North Charlesbridge, I saw more than one token of the encroachment of the Celtic army, which had here and there invested a Yankee house with besieging shanties on every side, and thus given to its essential and otherwise quite hopeless ugliness a touch of the poetry that attends failing fortunes, and hallows decayed gentility of however poor a sort originally. The fortunes of such a house are, of course, not to be retrieved. Where the Celt sets his foot, there the Yankee (and it is perhaps wholesome if not agreeable to know that the Irish citizen whom we do not always honor as our equal in civilization loves to speak of us scornfully as Yankees) rarely, if ever, returns. The place remains to the intruder and his heirs forever. We gracefully retire before him even in politics, as the metropolis--if it is the metropolis--can witness; and we wait with an anxious curiosity the encounter of the Irish and the Chinese, now rapidly approaching each other from opposite shores of the continent. Shall we be crushed in the collision of these superior races? Every intelligence-office will soon be ringing with the cries of combat, and all our kitchens strewn with pig-tails and bark chignons. As yet we have gay hopes of our Buddhistic brethren; but how will it be when they begin to quarter the Dragon upon the Stars and Stripes, and buy up all the best sites for temples, and burn their joss-sticks, as it were, under our very noses? Our grasp upon the great problem grows a little lax, perhaps? Is it true that, when we look so anxiously for help from others, the virtue has gone out of ourselves? I should hope not.
As I leave Dublin, the houses grow larger and handsomer; and as I draw near the Avenue, the Mansard-roofs look down upon me with their dormer-windows, and welcome me back to the American community. There are fences about all the houses, inclosing ampler and ampler dooryards; the children, which had swarmed in the thriftless and unenlightened purlieus of Dublin, diminish in number and finally disappear; the chickens have vanished; and I hear--I hear the pensive music of the horse-car bells, which in some alien land, I am sure, would be as pathetic to me as the Ranz des Vaches to the Swiss or the bagpipes to the Highlander: in the desert, where the traveller seems to hear the familiar bells of his far-off church, this tinkle would haunt the absolute silence, and recall the exile's fancy to Charlesbridge; and perhaps in the mocking mirage he would behold an airy horse-car track, and a phantasmagoric horse-car moving slowly along the edge of the horizon, with spectral passengers closely packed inside and overflowing either platform.
But before I reach the Avenue, Dublin calls to me yet again, in the figure of an old, old man, wearing the clothes of other times, and a sort of ancestral round hat. In the act of striking a match he asks me the time of day, and, applying the fire to his pipe, he returns me his thanks in a volume of words and smoke. What a wrinkled and unshorn old man! Can age and neglect do so much for any of us? This ruinous person was associated with a hand-cart as decrepit as himself, but not nearly so cheerful; for though he spoke up briskly with a spirit uttered from far within the wrinkles and the stubble, the cart had preceded him with a very lugubrious creak. It groaned, in fact, under a load of tin cans, and I was to learn from the old man that there was, and had been, in his person, for thirteen years, such a thing in the world as a peddler of buttermilk, and that these cans were now filled with that pleasant drink. They did not invite me to prove their contents, being cans that apparently passed their vacant moments in stables and even manure-heaps, and that looked somehow emulous of that old man's stubble and wrinkles. I bought nothing, but I left the old peddler well content, seated upon a thill of his cart, smoking tranquilly, and filling the keen spring evening air with fumes which it dispersed abroad, and made to itself a pleasant incense of.
I left him a whole epoch behind, as I entered the Avenue and lounged homeward along the stately street. Above the station it is far more picturesque than it is below, and the magnificent elms that shadow it might well have looked, in their saplinghood, upon the British straggling down the country road from the Concord fight; and there are some ancient houses yet standing that must have been filled with exultation at the same spectacle. Poor old revolutionaries! they would never have believed that their descendants would come to love the English as we do.
The season has advanced rapidly during my progress from Dublin to the Avenue; and by the time I reach the famous old tavern, not far from the station, it is a Sunday morning of early summer, and the yellow sunlight falls upon a body of good comrades who are grooming a marvelous number of piebald steeds about the stable-doors. By token of these beasts--which always look so much more like works of art than of nature--I know that there is to be a circus somewhere very soon; and the gay bills pasted all over the stable-front tell me that there are to be two performances at the Port on the morrow. The grooms talk nothing and joke nothing but horse at their labor; and their life seems such a low, ignorant, happy life, that the secret nomad lurking in every respectable and stationary personality stirs within me and struggles to strike hands of fellowship with them. They lead a sort of pastoral existence in our age of railroads; they wander over the continent with their great caravan, and everywhere pursue the summer from South to North and from North to South again; in the mild forenoons they groom their herds, and in the afternoons they doze under their wagons, indifferent to the tumult of the crowd within and without the mighty canvas near them,--doze face downwards on the bruised, sweet-smelling grass; and in the starry midnight rise and strike their tents, and set forth again over the still country roads, to take the next village on the morrow with the blaze and splendor of their "Grand Entree." The triumphal chariot in which the musicians are borne at the head of the procession is composed, as I perceive by the bills, of four colossal gilt swans, set tail to tail, with lifted wings and curving necks; but the chariot, as I behold it beside the stable, is mysteriously draped in white canvas, through which its gilding glitters only here and there. And does it move thus shrouded in the company's wanderings from place to place, and is the precious spottiness of the piebalds then hidden under envious drapery? O happy grooms,--not clean as to shirts, nor especially neat in your conversation, but displaying a Wealth of art in India-ink upon your manly chests and the swelling muscles of your arms, and speaking in every movement your freedom from all conventional gyves and shackles, _"seid umschlungen!"_--in spirit; for the rest, you are rather too damp, and seem to have applied your sudsy sponges too impartially to your own trousers and the horses' legs to receive an actual embrace from a _dilettante_ vagabond.
The old tavern is old only comparatively; but in our new and changeful life it is already quaint. It is very long, and low-studded in either story, with a row of windows in the roof, and a great porch, furnished with benches, running the whole length of the ground-floor. Perhaps because they take the dust of the street too freely, or because the guests find it more social and comfortable to gather in-doors in the wide, low-ceiled office, the benches are not worn, nor particularly whittled. The room has the desolate air characteristic of offices which have once been bar-rooms; but no doubt, on a winter's night, there is talk worth listening to there, of flocks, and herds and horse-trades, from the drovers and cattle-market men who patronize the tavern; and the artistic temperament, at least, could feel no regret if that sepulchrally penitent bar-room then developed a secret capacity for the wickedness that once boldly glittered behind the counter in rows of decanters.
The house was formerly renowned for its suppers, of which all that was learned or gifted in the old college town of Charlesbridge used to partake; and I have heard lips which breathe the loftiest song and the sweetest humor--let alone being "dewy with the Greek of Plato"--smacked regretfully over the memory of those suppers' roast and broiled. No such suppers, they say, are cooked in the world any more; and I am somehow made to feel that their passing away is connected with the decay of good literature.
I hope it may be very long before the predestined French-roof villa occupies the tavern's site, and turns into lawns and gardens its wide-spreading cattle-pens, and removes the great barn that now shows its broad, low gable to the street. This is yet older and quainter-looking than the tavern itself; it is mighty capacious, and gives a still profounder impression of vastness with its shed, of which the roof slopes southward down almost to a man's height from the ground, and shelters a row of mangers, running back half the length of the stable, and serving in former times for the baiting of such beasts as could not be provided for within. But the halcyon days of the cattle-market are past (though you may still see the white horns tossing above the fences of the pens, when a newly arrived herd lands from the train to be driven afoot to Brighton), and the place looks now so empty and forsaken, spite of the circus baggage-wagons, that it were hard to believe these mangers could ever have been in request, but for the fact that they are all gnawed, down to the quick as it were, by generations of horses--vanished forever on the deserted highways of the past--impatient for their oats or hungering for more.
The day must come, of course, when the mangers will all be taken from the stable-shed, and exposed for sale at that wonderful second-hand shop which stands over against the tavern. I am no more surprised than one in a dream, to find it a week-day afternoon by the time I have crossed thither from the circus-men grooming their piebalds. It is an enchanted place to me, and I am a frequent and unprofitable customer there, buying only just enough to make good my footing with the custodian of its marvels, who is, of course, too true an American to show any desire to sell. Without, on either side of the doorway, I am pretty sure to find, among other articles of furniture, a mahogany and hair-cloth sofa, a family portrait, a landscape painting, a bath-tub, and a flower-stand, with now and then the variety of a boat and a dog-house; while under an adjoining shed is heaped a mass of miscellaneous movables, of a heavier sort, and fearlessly left there night and day, being on all accounts undesirable to steal. The door of the shop rings a bell in opening, and ushers the customer into a room which Chaos herself might have planned in one of her happier moments. Carpets, blankets, shawls, pictures, mirrors, rocking-chairs, and blue overalls hang from the ceiling, and devious pathways wind amidst piles of ready-made clothing, show-cases filled with every sort of knick-knack and half hidden under heaps of hats and boots and shoes, bookcases, secretaries, chests of drawers, mattresses, lounges, and bedsteads, to the stairway of a loft similarly appointed, and to a back room overflowing with glassware and crockery. These things are not all second-hand, but they are all old and equally pathetic. The melancholy of ruinous auction sales, of changing tastes or changing fashions, clings to them, whether they are things that have never had a home and have been on sale ever since they were made, or things that have been associated with every phase of human life.
Among other objects, certain large glass vases, ornamented by the polite art of potichomanie, have long appealed to my fancy, wherein they capriciously allied themselves to the history of aging single women in lonely New England village houses,--pathetic sisters lingering upon the neutral ground between the faded hopes of marriage and the yet unrisen prospects of consumption. The work implies an imperfect yet real love of beauty, the leisure for it a degree of pecuniary ease: the thoughts of the sisters rise above the pickling and preserving that occupied their heartier and happier mother; they are in fact in that aesthetic, social, and intellectual mean, in which single women are thought soonest to wither and decline. With a little more power, and in our later era, they would be writing stories full of ambitious, unintelligible, self-devoted and sudden collapsing young girls and amazing doctors; but as they are, and in their time, they must do what they can. A sentimentalist may discern on these vases not only the gay designs with which they ornamented them, but their own dim faces looking wan from the windows of some huge old homestead, a world too wide for the shrunken family. All April long the door-yard trees crouch and shudder in the sour east, all June they rain canker-worms upon the roof, and then in autumn choke the eaves with a fall of tattered and hectic foliage. From the window the fading sisters gaze upon the unnatural liveliness of the summer streets through which the summer boarders are driving, or upon the death-white drifts of the intolerable winter. Their father, the captain, is dead; he died with the Calcutta trade, having survived their mother, and left them a hopeless competency and yonder bamboo chairs; their only brother is in California; one, though she loved, had never a lover; her sister's betrothed married West, whither he went to make a home for her,--and ah! is it vases for the desolate parlor mantel they decorate, or funeral urns? And when in time, they being gone, the Californian brother sends to sell out at auction the old place with the household and kitchen furniture, is it withered rose-leaves or ashes that the purchaser finds in these jars?
They are empty now; and I wonder how came they here? How came the showcase of Dr. Merrifield, Surgeon-Chiropodist here? How came here yon Italian painting?--a poor, silly, little affected Madonna, simpering at me from her dingy gilt frame till I buy her, a great bargain, at a dollar. From what country church or family oratory, in what revolution, or stress of private fortunes,--then from what various cabinets of antiquities, in what dear Vicenza, or Ferrara, or Mantua, earnest thou, O Madonna? Whose likeness are you, poor girl, with your everyday prettiness of brows and chin, and your Raphaelesque crick in the neck? I think I know a part of your story. You were once the property of that ruined advocate, whose sensibilities would sometimes consent that a _valet de place_ of uncommon delicacy should bring to his ancestral palace some singularly meritorious foreigner desirous of purchasing from his rare collection,--a collection of rubbish scarcely to be equaled elsewhere in Italy. You hung in that family-room, reached after passage through stately vestibules and grand stairways; and O, I would be cheated to the bone, if only I might look out again from some such windows as were there, upon some such damp, mouldy, broken-statued, ruinous, enchanted garden as lay below! In that room sat the advocate's mother and hunchback sister, with their smoky _scaldini_ and their snuffy priest; and there the wife of the foreigner, self-elected the taste of his party, inflicted the pang courted by the advocate, and asked if you were for sale. And then the ruined advocate clasped his hands, rubbed them, set his head heart-brokenly on one side, took you down, heaved a sigh, shrugged his shoulders, and sold you--you! a family heirloom! Well, at least you are old, and you represent to me acres of dim, religious canvas in that beloved land; and here is the dollar now asked for you: I could not have bought you for so little at home.
The Madonna is neighbored by several paintings, if the kind called Grecian for a reason never revealed by the inventor of an art as old as potichomanie itself. It was an art by which ordinary lithographs were given a ghastly transparency, and a tone as disagreeable as chromos; and I doubt if it could have been known to the Greeks in their best age. But I remember very well when it passed over whole neighborhoods in some parts of this country, wasting the time of many young women, and disfiguring parlor walls with the fruit of their accomplishment. It was always taught by Professors, a class of learned young men who acquired their title by abandoning the plough and anvil, and, in a suit of ready-made clothing, travelling about the country with portfolios under their arms. It was an experience to make loafers for life of them: and I fancy the girls who learnt their art never afterwards made so good butter and cheese.
"Non-ragioniam di lor, ma guarda e passa."
Besides the Grecian paintings there are some mezzotints; full length pictures of presidents and statesmen, chiefly General Jackson, Henry Clay, and Daniel Webster, which have hung their day in the offices or parlors of country politicians. They are all statesmanlike and presidential in attitude; and I know that if the mighty Webster's lips had language, he would take his hand out of his waistcoat front, and say to his fellow mezzotints: "Venerable men! you have come down to us from a former generation, bringing your household furniture and miscellaneous trumpery of all kinds with you."
Some old-fashioned entry lanterns divide my interest with certain old willow chairs of an hour-glass pattern, which never stood upright, probably, and have now all a confirmed droop to one side, as from having been fallen heavily asleep in, upon breezy porches, of hot summer afternoons. In the windows are small vases of alabaster, fly-specked Parian and plaster figures, and dolls with stiff wooden limbs and papier-mache heads, a sort of dolls no longer to be bought in these days of modish, blue-eyed blondes of biscuit and sturdy india-rubber brunettes. The show-case is full of an incredible variety, as photograph albums, fishing-hooks, socks, suspenders, steel pens, cutlery of all sorts, and curious old colored prints of Adelaide, and Kate, and Ellen. A rocking-horse is stabled near amid pendent lengths of second-hand carpeting, hat-racks, and mirrors; and standing cheek-by-jowl with painted washstands and bureaus are some plaster statues, aptly colored and varnished to represent bronze.
There is nothing here but has a marked character of its own, some distinct yet intangible trait acquired from former circumstances; and doubtless all these things have that lurking likeness to former owners which clothes and furniture are apt to take on from long association, and which we should instantly recognize could they be confronted with their late proprietors. It seems, in very imaginative moments, as if the strange assemblage of incongruities must have a consciousness of these latent resemblances, which the individual pieces betray when their present keeper turns the key upon them, and abandons them to themselves at night; and I have sometimes fancied such an effect in the late twilight, when I have wandered into their resting-place, and have beheld them in the unnatural glare of a kerosene lamp burning before a brightly polished reflector, and casting every manner of grotesque shadow upon the floor and walls. But this may have been an illusion; at any rate I am satisfied that the bargain-driving capacity of the storekeeper is not in the least affected by a weird quality in his wares; though they have not failed to impart to him something of their own desultory character. He sometimes leaves a neighbor in charge when he goes to meals, and then, if I enter, I am watchfully followed about from corner to corner, and from room to room, lest I pocket a mattress or slip a book-case under my coat. The storekeeper himself never watches me; perhaps he knows that it is a purely professional interest I take in the collection; that I am in the trade and have a secondhand shop of my own, full of poetical rubbish, and every sort of literary odds and ends, picked up at random, and all cast higgledy-piggledy into the same chaotic receptacle. His customers are as little like ordinary shoppers as he is like common tradesmen. They are in part the Canadians who work in the brickyards, and it is surprising to find how much business can be transacted, and how many sharp bargains struck without the help of a common language. I am in the belief, which may be erroneous, that nobody is wronged in these trades. The taciturn storekeeper, who regards his customers with a stare of solemn amusement as Critturs born by some extraordinary vicissitude of nature to the use of a language that practically amounts to deafness and dumbness, never suffers his philosophical interest in them to affect his commercial efficiency; he drops them now and then a curt English phrase, or expressive Yankee idiom; he knows very well when they mean to buy and when they do not; and they equally wary and equally silent, unswayed by the glib allurements of a salesman, judge of price and quality for themselves, make their solitary offer, and stand or fall by it.
I am seldom able to conclude a pedestrian tour without a glance at the wonderful interior of this cheap store, and I know all its contents familiarly. I recognize wares that have now been on sale there for years; I miss at first glance such accustomed objects as have been parted with between my frequent visits, and hail with pleasure the additions to that extraordinary variety. I can hardly, I suppose, expect the reader to sympathize with the joy I felt the other night, in discovering among the latter an adventurous and universally applicable sign-board advertising This House and Lot for Sale, and, intertwined with the cast-off suspenders which long garlanded a coffee-mill pendent from the roof, a newly added second-hand india-rubber ear-trumpet. Here and there, however, I hope a finer soul will relish, as I do, the poetry of thus buying and offering for sale the very most recondite, as well as the commonest articles of commerce, in the faith that one day the predestined purchaser will appear and carry off the article appointed him from the beginning of time. This faith is all the more touching, because the collector cannot expect to live until the whole stock is disposed of, and because, in the order of nature, much must at last fall to rein unbought, unless the reporter's Devouring Element appears and gives a sudden tragical turn to the poem.
It is the whistle of a train drawing up at the neighboring station that calls me away from the second-hand store; for I never find myself able to resist the hackneyed prodigy of such an arrival. It cannot cease to be impressive. I stand beside the track while the familiar monster writhes up to the station and disgorges its passengers,--suburbanly packaged, and bundled, and bagged, and even when empty-handed somehow proclaiming the jaded character of men that hurry their work all day to catch the evening train out, and their dreams all night to catch the morning train in,--and then I climb the station-stairs, and "hang with grooms and porters on the bridge," that I may not lose my ever-repeated sensation of having the train pass under my feet, and of seeing it rush away westward to the pretty blue hills beyond,--hills not too big for a man born in a plain-country to love. Twisting and trembling along the track, it dwindles rapidly in the perspective, and is presently out of sight. It has left the city and the suburbs behind, and has sought the woods and meadows; but Nature never in the least accepts it, and rarely makes its path a part of her landscape's loveliness. The train passes alien through all her moods and aspects; the wounds made in her face by the road's sharp cuts and excavations are slowest of all wounds to heal, and the iron rails remain to the last as shackles upon her. Yet when the rails are removed, as has happened with a non-paying track in Charlesbridge, the road inspires a real tenderness in her. Then she bids it take or the grace that belongs to all ruin; the grass creeps stealthily over the scarified sides of the embankments; the golden-rod, and the purple-topped iron-weed, and the lady's-slipper, spring up in the hollows on either side, and--I am still thinking of that deserted railroad which runs through Charlesbridge--hide with their leafage the empty tomato-cans and broken bottles and old boots on the ash-heaps dumped there; Nature sets her velvety willows a waving near, and lower than their airy tops plans a vista of trees arching above the track, which is as wild and pretty and illusive a vista as the sunset ever cared to look through and gild a board fence beyond.
Most of our people come from Boston on the horse-cars, and it is only the dwellers on the Avenue and the neighboring streets whom hurrying homeward I follow away from the steam-car station. The Avenue is our handsomest street; and if it were in the cosmopolitan citizen of Charlesbridge to feel any local interest, I should be proud of it. As matters are, I perceive its beauty, and I often reflect, with a pardonable satisfaction, that it is not only handsome, but probably the very dullest street in the world. It is magnificently long and broad, and is flanked nearly the whole way from the station to the colleges by pine palaces rising from spacious lawns, or from the green of trees or the brightness of gardens. The splendor is all very new, but newness is not a fault that much affects architectural beauty, while it is the only one that time is certain to repair: and I find an honest and unceasing pleasure in the graceful lines of those palaces, which is not surpassed even by my appreciation of the vast quiet and monotony of the street itself. Commonly, when I emerge upon it from the grassy-bordered, succory-blossomed walks of Benicia Street, I behold, looking northward, a monumental horse-car standing--it appears for ages, if I wish to take it for Boston--at the head of Pliny Street; and looking southward I see that other emblem of suburban life, an express-wagon, fading rapidly in the distance. Haply the top of a buggy nods round the bend under the elms near the station; and, if fortune is so lavish, a lady appears from a side street, and, while tarrying for the car, thrusts the point of her sun-umbrella into the sandy sidewalk. This is the mid-afternoon effect of the Avenue; but later in the day, and well into the dusk, it remembers its former gayety as a trotting-course,--with here and there a spider-wagon, a twinkling-footed mare, and a guttural driver. On market-days its superb breadth is taken up by flocks of bleating sheep, and a pastoral tone is thus given to its tranquillity; anon a herd of beef-cattle appears under the elms; or a drove of pigs, many pausing, inquisitive of the gutters, and quarrelsome as if they were the heirs of prosperity instead of doom, is slowly urged on toward the shambles. In the spring or the autumn, the Avenue is exceptionally enlivened by the progress of a brace or so of students who, in training for one of the University Courses of base-ball or boating, trot slowly and earnestly along the sidewalk, fists up, elbows down, mouths shut, and a sense of immense responsibility visible in their faces.
The summer is waning with the day as I turn from the Avenue into Benicia Street. This is the hour when the fly cedes to the mosquito, as the Tuscan poet says, and, as one may add, the frying grasshopper yields to the shrilly cricket in noisiness. The embrowning air rings with the sad music made by these innumerable little violinists, hid in all the gardens round, and the pedestrian feels a sinking of the spirits not to be accounted for upon the theory that the street is duller than the Avenue, for it really is not so.
Quick now, the cheerful lamps of kerosene!--without their light, the cry of those crickets, dominated for an instant, but not stilled, by the bellowing of a near-passing locomotive, and the baying of a distant dog, were too much. If it were the last autumn that ever was to be, it could not be heralded with notes of dismaller effect. This is in fact the hour of supreme trial everywhere, and doubtless no one but a newly-accepted lover can be happy at twilight. In the city, even, it is oppressive; in the country it is desolate; in the suburbs it is a miracle that it is ever lived through. The night-winds have not risen yet to stir the languid foliage of the sidewalk maples; the lamps are not yet lighted, to take away the gloom from the blank, staring windows of the houses near; it is too late for letters, too early for a book. In town your fancy would turn to the theatres; in the country you would occupy yourself with cares of poultry or of stock: in the suburbs you can but sit upon your threshold, and fight the predatory mosquito.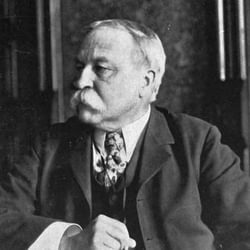 Champion of American literary realism, esteemed author, and 'Dean of American Letters,' celebrated for his ethical narratives.