The Torture Of Colonel Crawford
The slaughter of the Christian Indians at Gnadenhutten took place in March, 1782, and in May ol the same year, four hundred and fifty horsemen from the American border met at Mingo Bottom, where the murderers had rendezvoused, and set out from that point to massacre the Moravian converts who had taken refuge among the Wyandots on the Sandusky. They expected, of course, to fight the warlike Indians, but they openly avowed their purpose of killing all Indians, Christian or heathen, and women and children, as well as warriors. We must therefore call them murderers, but we must remember that they had been hardened against mercy by the atrocities of the savages, and we must make allowance for men who had seen their wives and little ones tomahawked and scalped or carried off into captivity, their homes burnt, and their fields wasted. The life of the frontier at a time when all life was so much ruder than now was as fierce, if not as cruel, among the white men as among the red men.
The murderers at Mingo Bottom voted whether Colonel David Williamson or Colonel William Crawford should lead them, and their choice fell upon Crawford. He seems to have been a man of kinder heart than his fellows, and he unwillingly took command of the turbulent and disorderly band, which promptly set out on its march through the wilderness towards the Sandusky country. They had hoped to surprise the Indians, but spies had watched their movements from the first, and when they reached the Moravian villages on the Sandusky River, they found them deserted. They decided then to go on toward Upper Sandusky, and if they could not reach that town in a day's march, to beat a quick retreat. The next day they started, but at two o'clock in the afternoon they were attacked by large numbers of Indians hidden in the tall grass of the prairies, and they fought a running battle till nightfall. Then both sides kindled large fires along their lines, and fell back from them to prevent a surprise.
In the morning the Americans began their retreat, and the Indians renewed their attack with great fury in the afternoon, on all sides except the northeast, where the invaders were hemmed in by swamps. There seems to have been no cause for their retreat, except the danger of an overwhelming onset by the savages, which must have been foreseen from the start. But the army, as it was called, was wholly without discipline; during the night not even a sentry had been posted; and now their fear became a panic, their retreat became a rout. They made their way as best they could through the marshes, where the horses stuck fast, and had to be abandoned, and the men themselves sometimes sank to their necks in the soft ooze. Instead of keeping together, as Crawford advised but had no power to compel, the force broke up into small parties, which the Indians destroyed or captured. Many perished in the swamps; some were followed as far as the Ohio River. The only one of the small parties which escaped was that of forty men under Colonel Williamson, the leader of the Gnadenhiitten massacre, who enjoyed the happier fortune denied to Colonel Crawford.
This ill-fated officer was tormented after the retreat began by his fear for the safety of his son, his son-in-law, and his nephews, and he left his place at the head of the main body and let the army file past him while he called and searched for the missing men. He did not try to overtake it till it was too late to spur his wearied horse forward. He fell in with Dr. John Knight, who accompanied the expedition as surgeon, and who now generously remained with Crawford. They pushed on together with two others through the woods, guided by the north star, but on the second day after the army had left them behind, a party of Indians fell upon them and made them prisoners.
Their captors killed their two companions, Captain Biggs and Lieutenant Ashley, the following day, but Crawford and Knight were taken to an Indian camp at a little distance, and then to the old Wyandot town of Sandusky, where preparations were made for burning Crawford. He seems to have had great hopes that Simon Girty, who was then at Sandusky, would somehow manage to save him, and it is said that the renegade really offered three hundred dollars for Crawford's life, knowing that he would be many times repaid by Crawford's friends. But the chief whom Girty tried to bribe answered, "Do you take me for a squaw?" and threatened, if Girty said more, to burn him along with Crawford. This is the story told in Girty's favor; other stories represent him as indifferent if not cruel to Crawford throughout. In any case, it ended in Crawford's return to the Indian camp, eight miles from the Indian town, where he suffered death.
The chiefs who had been put in charge of him were two Delawares of great note, Captain Pipe and Captain Wingenund. They were chosen his guards because the Christian Indians were of their nation, and the Delawares, more than any other nation, were held to have been injured and insulted by their massacre. It was Captain Pipe who refused Girty's offer, if Girty ever made it, and it was Captain Pipe who urged the death of the prisoners, while treating them with mock politeness. Nine others were brought back from the town with Knight and Crawford, and Captain Pipe now painted all their faces black, the sign of doom. While he was painting Knight's face, he told him that he should be taken to see his friends at the Shawnee village, and he told Crawford that his head should be shaved, meaning that he should be made an Indian and adopted into the tribe. But when they came to the place where Crawford was to suffer, Captain Pipe threw off the mask of kindness; he made a speech to the forty warriors and seventy squaws and papooses met to torture him, and used all his eloquence to inflame their hate.
The other Delaware chief, Captain Wingenund, had gone into his cabin, that he might not see Crawford's death. They knew each other, and more than once Crawford had been good to Wingenund. The captive now sent for the chief, and Wingenund came unwillingly to speak with him, for he was already tied to the stake, and his friend knew that he could not save him. The chief acknowledged the kindness that they had once felt for each other, but he said that Crawford had put it out of his power to give him help.
"How so, Captain Wingenund?" asked Crawford.
"By joining yourself to that execrable man, Williamson; the man who but the other day murdered such a number of Moravian Indians, knowing them to be friends; knowing that he ran no risk in murdering a people who would not fight, and whose only business was praying."
In vain, Crawford declared that he would never have suffered the massacre if he had been present. Wingenund was willing to believe this, but he reminded him that the men whom he had led to Sandusky had declared that they came to murder the remaining Moravians. No one, he said, would now dare to speak a word for him; the king of England, if he came with all his treasure, could not save him from the vengeance which the Indians were going to take upon him for the slaughter of their innocent brethren.
"Then my fate is fixed," said Crawford.
Wingenund turned away weeping, and could never afterwards speak of the scene without deep feeling.
Crawford had already undergone the first of his punishment. The savages stripped him naked and made him sit down on the ground before the fire kindled to burn him, and beat him with their fists and with sticks till they had heated their rage. Then they tied his wrists together and fastened the rope that bound them to a post strongly planted in the ground with leash enough to let him walk round it once or twice, five or six yards away from the fire. Girty was present, and Crawford asked if the Indians meant to burn him; the renegade briefly answered, "Yes." Then Captain Pipe spoke, and Wingenund saw his friend for the last time. After this chief left Crawford, the Indians broke into a loud yell and began the work of torture which ended only with his death.
At one point he besought Simon Girty to put an end to his sufferings; but Girty would not, or dared not.
Then Crawford began to pray, imploring God to have mercy upon him, and bore his torment for an hour and a half longer with manly courage. It is not known how long his torture lasted; Knight was now taken away, and no friend remained to witness Crawford's agony to the end.
I have thought it well to recount his story, for without it we could not fully realize what the white people of that day underwent in their long struggle with the Ohio Indians. Cruelty so fiendish could never have a cause, but it cannot be denied that the torture of Crawford was the effect of the butchery of the Christian Indians. That awful deed was an act of even greater wickedness, for it was the act of men who were not savage by birth or race or creed. It was against the white man's law, while the torture of Crawford was by the red man's law. It is because of their laws that the white men have overcome and the red men have gone under in the order of mercy, for whenever we sin against that order, contrary to our law, or according to our law, we weaken ourselves, and if we continue in our sin, we doom ourselves in the end to perish.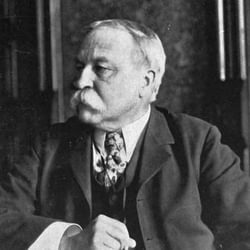 Champion of American literary realism, esteemed author, and 'Dean of American Letters,' celebrated for his ethical narratives.